A paperless office can help any business— but there's a good chance that your office isn't going paperless anytime soon. Did you know that 95% of Newark businesses still have their documents and company information in hard-copy paper format?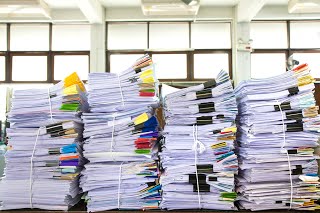 Sure, they're easy to access, but over time these papers pile up, more and more filing cabinets are added, and all of the sudden one of your offices is storing a mountain of files.
In most cases, when New Jersey businesses make the decision to "go digital," the best bet is to hire a professional document scanning service.
They take the hassle out of figuring out the process, deciding what to scan, and determining the right fit for your business. Digital documents are easier to access and will help optimize document flow and keep your employees organized.
Is the Paperless Office Right for Your Newark-Based Business?
Going paperless isn't just a matter of purchasing a scanner and converting your documents- there's a lot of potential pitfalls if you decide to make the transition to a paperless office. This checklist provides some considerations to whether or not a paperless office is a step in the right direction for your business.
Is hiring a document scanning service a cost effective solution for your Newark business? This usually depends on how many documents you want to convert, what system you want to use, and how you want to integrate your paperless system with your existing document management system.
Are you going to save a significant amount of money spent on paper, postage, ink and other supplies each month? Add up all the costs associated with handling and managing your paper documents. Over a year, we bet it's a lot more expensive than you think.
How much time to do you spend shuffling through stacks of paper? Electronic documents eliminate some or all of this time-consuming process. Digital documents improve productivity, reduce the chance of duplicate or incorrect information, and increase security in your office.
Will your new system be easy to use, and will your employees find it easier to use digitized documents? How long does it take for you to find a file in your sea of filing cabinets? Electronic documents are indexed and can be found with a quick keyword search.
If you can answer all these questions with confidence, then you're ready to go paperless! If you have questions, or want more information, give us a call at (973) 404-8722 or fill out the form to the right to request a free quote.
Federal Laws that Encourage Electronic Document Storage
In 1996, the Health Insurance Portability and Accountability Act (HIPAA) which addresses the security and privacy of health data. The standards are meant to improve the efficiency and effectiveness of the nation's health care system by encouraging the widespread use of electronic data in the US health care system.
In 2002, the Sarbanes-Oxley Act was passed, which requires businesses to properly maintain financial records. That includes being able to retrieve them when required.
In 2003, Congress passed the Fair and Accurate Credit Reporting Act (FACTA), which also requires business to properly safeguard and store personal information of employees and customers and properly destroy them.
There are many offices which still operate under a flood of paper documents, and the storage required for paper documents grows at a rate of 20-25% every year. In order to help meet their storage needs, many companies look to offsite document storage solutions to store their company documents- or just make the jump to a paperless office.
One hard drive can hold millions of documents- which would require a hundred filing cabinets or more. It's no wonder that more and more companies are making the decision to go paperless, and at Newark Document Scanning and Imaging, we can help your business do it too!
Get Free, No-Obligation Quotes on Document Scanning Services in Newark, NJ Today!
If your scanning project doesn't fit any of these categories or you are unsure of which service is the best fit for you, just give us a call at (973) 404-8722, or just fill out the form to the left of your screen. We are ready to handle your sensitive documents and are able to provide hassle-free quotes for scanning projects of all shapes and sizes.